New Jersey personal injury lawyers
by rakins | January 16th, 2020
In Monmouth, Ocean, and Middlesex County, flu season is running rampant. Emergency Rooms all over the state are flooding with sick adults and children alike, as the weather is cold and germs are spreading.
According to NJ.gov, about 8% of emergency room visits in New Jersey are for influenza-like illnesses. Because the Influenza Activity Level has been widespread and high throughout every region in New Jersey recently, it's more important than ever to be wary of getting sick.
Whether it is at school, work, or in your own home, people and places can get you sick and really put a damper on your winter. Here at Judd Shaw Injury Law, we believe health and safety are of the utmost importance, so that's why we're providing some tips on avoiding the flu in hopes that all can have a healthy and happy winter with their loved ones.
Wash Your Hands / Use Hand Sanitizer
One of the easiest but most looked over ways to keep germs away is washing your hands. You can do this at any time—not just following a bathroom break or a meal. Using hand sanitizer or washing your hands anytime you touch something that you think may not be clean or sanitary is a great way to limit the spread of germs to yourself and others.
Avoid Touching Your Eyes, Nose, and Mouth
No matter how often you wash your hands, it's impossible to completely separate yourself from the spreading of germs. That's why it's so important that we keep our hands away from our ears, nose, and mouth. It's hard to know when we touch something that could get us sick, and in most cases, we don't know until it's too late.
Disinfect Surfaces Regularly
When using objects or working on surfaces, it's always smart to take a minute or two to disinfect them before and after using them. It's good to disinfect anything you come in contact with, especially objects you are touching and working with regularly. Not only will this keep a clean environment around you, protecting you from illness, but you very well might be helping someone else stay healthy who might not have thought to disinfect the objects they come in contact with every day.
Cover Your Mouth and Nose
Coughing and sneezing go hand in hand with winter. When coughing and sneezing, it's important to cover up your mouth and nose so you don't spread around any germs. Be sure to sanitize and wash your hands afterward so the germs don't spread onto whatever you touch.
Stay Home
Unfortunately, no matter how careful we are, sometimes our daily lives inevitably lead to us getting sick. If you do get sick, do yourself and those around you a favor and stay home. You might think you need to go to work, but you're much better off taking the time you need to get healthy so that you can perform to the best of your ability when you return and so you don't get any of your coworkers sick.
Winter is a tough time for everyone. Every year it seems like everyone is getting sick or you're the one getting sick. The flu is a very tough illness to deal with, making it all the more important to do what needs to be done to avoid it. We wish you all a safe, healthy, and happy winter!
by Staff Blogger | December 27th, 2019
The Holiday Season can be a busy and stressful time, which can lead to unhealthy and damaging habits. Here at Judd Shaw Injury Law, we want everyone to be safe and healthy with friends and family. So, we thought we could outline some health tips for the holiday season to keep you having fun and enjoying time with your loved ones.
Try to Avoid Overindulging
Great food and drinks are a part of the holiday season for many, but try to enjoy them in moderation. Some people overeat and drink due to stress, and that is not healthy for you. Just remember, pace yourself, but also enjoy yourself.
Get Plenty of Rest
The key to keeping stress down is making sure you get your rest. If you allow yourself to get run down, it can really affect your holiday and become a problem. Make sure to get your eight hours of sleep and stay rested to maximize fun!
Stay Active
Make sure to get up and do things around the holidays. It is very easy to find yourself sitting and talking with people all day, but make sure to go on walks or find something active to do to keep you going.
Travel Safely
This is the busiest time of the year for travel. Make sure you have well outlined plans for traveling, and allow yourself enough time to get to where you are going. It will relieve stress if you are able to calmly and safely get to your loved ones.
From all of us here at Judd Shaw Injury Law, we wish you all a safe and happy holiday season. We work hard all year so we can enjoy time with our family and friends this time of year.
The holiday season is a very happy time for many, and we hope that you are able to find that happiness as well. 2020 is a new year, and here at Judd Shaw Injury Law, we plan on it being our best year yet. We look forward to the New Year and all the great surprises that it can bring!
Happy Holidays!
by Staff Blogger | December 17th, 2019
As the holiday season approaches, people scramble for last-minute gifts that they may have missed or because they were unsure of what to get for that special someone. Many people from Monmouth, Ocean, and Middlesex County take great pride in where they are from. So, what better gift to give them than something that reminds them of home. Time is getting short, but if you act now, you can still grab a few of these great gift ideas!
New Jersey Wine Cork Map
If you know a wine lover, this could be a great decorative gift that gets some good use. As they say, every cork tells a story!
NJ Custom License Plate T-Shirt
What better way to get a personal New Jersey gift than to customize a T-Shirt in the License Plate of their favorite state. With up to 15 characters to use, most names will fit and will be sure to please the person who gets it.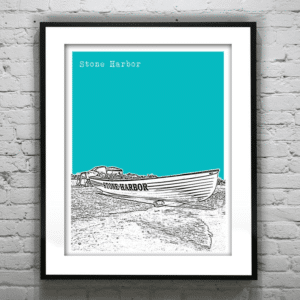 New Jersey Points of Interest Posters
The posters cover many different areas of the Jersey Shore and allow you to pick more colors and designs. These can make a great gift if you get one personalized to their favorite Middlesex County town or Monmouth or Ocean County beach.
Whatever you decide on, gifts that have meaning associated with them are always a plus. Especially if they are tied to home, whether it is Monmouth County, Ocean County, or anywhere in New Jersey. Here at Judd Shaw Injury Law, we wish you Happy Holidays and a safe and happy New Year!