New Jersey personal injury lawyers
by Staff Blogger | May 19th, 2020
Memorial Day Weekend has long been a staple at the Jersey Shore for many to enjoy time with family, time with friends, great food, and the kickoff to summer. We have all grown accustomed to enjoying the holiday weekend at the beach, enjoying parties, and going out to bars, without worrying about potentially contracting COVID-19. However, in this "Coronavirus era," it's become abundantly clear that we won't be able to celebrate and enjoy the weekend the way that we have long been accustomed to. Fortunately, we're not quite as isolated as we were two months ago when COVID-19 was reaching its peak. With the curve flattening and our communities learning how to adjust and live life, while remaining socially distant, we have a few options to help you still have a very enjoyable Memorial Day weekend!
New Jersey beaches are slowly beginning to open up for the summer, allowing the locals to enjoy the beaches while still abiding by the social distancing restrictions. For Jersey Shore towns like Manasquan, Seaside Heights, and Spring Lake, there are multi-phase plans in place to keep beach-goers at a safe distance from others. At Judd Shaw Injury Law, we've compiled a list of some great ways to responsibly celebrate MDW with whoever you're quarantined with, whether that's family or friends.
Go to the Beach
Many beaches are operating under varying social distancing orders and limitations; however, in many cases, beaches are open or will be open for Memorial Day weekend. If you don't live near the beach, it's best to stay away in order to limit the number of people that are at the beaches. Many towns aren't allowing those who aren't local residents to go to beaches anyway. If you live at one of the shore towns like Asbury Park, Manasquan, or Belmar, be sure to do some research to determine what the specific guidelines are in that town and determine if the beach is an option for you this MDW.
Have a Video Party
If you're feeling especially alone, link up with whomever you normally celebrate the weekend with and engage in a video call with them. Great conversation is an excellent way to stay sane and safe during this age of isolation.
Have a Cookout
While we all need to follow social distancing, we are still able to go outside with those we're quarantined with. One of the many great ways to enjoy the beautiful summer weather is to have a cookout; grill up some burgers and hot dogs while having a cold drink and enjoying the company of those you love most.
Go Camping
Another great way to enjoy the great outdoors during this "Coronavirus era" is by taking a camping trip. Camping is a spectacular way to follow social distancing orders, stay isolated from strangers, all while getting out of the house. With many private campgrounds now allowed to operate, more and more opportunities arise that allow us all to get out of the house for a few days.
Gather Around a Fire
If you don't live near any campgrounds or aren't able to get away for the weekend, gather around a controlled fire in your backyard with your closest friends and family members. You can even grab a few drinks and enjoy some tasteful food, all while engaging in some good conversation with close friends and family. And by the way, don't forget the marshmallows!
Play Pick Up Sports
If you're isolated with enough people and have the necessary space and equipment, you can organize a pick-up game of basketball, wiffleball, football, or even a game that you made up! Nothing says summer like running around the yard with your friends and family.
From all of us at Judd Shaw Injury Law, we hope you have a great Memorial Day weekend! We hope you all are still able to enjoy the weekend as much as we have in past years. These are strange and unprecedented times that require us to be more cautious than ever, but that doesn't mean we can't still enjoy ourselves. However, if you do get injured while enjoying these activities, or other activities, please do not hesitate to reach out to us as soon as possible so that we can get you the compensation you deserve.
We are always available 24/7 at 732-888-8888 or at demandjudd@juddshawinjurylaw.com, because it's always a good time to Demand Justice. Demand Judd.
by Staff Blogger | March 31st, 2020
As Judd Shaw Injury Law wraps up its monthly theme, March's "Don't be lucky, be fortunate," we focus this blog on emphasizing feeling fortunate and hopeful during a situation that looks gloomy. The common expression "every cloud has a silver lining" means that even the worst events or situations have some positive aspects.
With all the tragic things that are happening in the world as a result of the coronavirus global pandemic, now might seem like an unusual time to be feeling fortunate. Yet staying positive is a core ingredient in the recipe of success with coping during a crisis. 
Now, more than ever, is the time for us to be proactive about creating small moments of happiness in our days and to be grateful for the time together during in-home confinement. 
Not that long ago, so many of us were rushed in a flurry of routine tasks and general busyness. For some of us, it's not that often that we have time to gather around for family dinners, reconnect with loved ones, connect in more meaningful ways, and are pressed to enjoy simple experiences and activities together. We are finding new ways to connect with ourselves and loved ones. We're realizing how important community is and doubling-down on investing in it. We're deepening our appreciation for the people – the teachers, doctors, nurses, grocery store workers, garbage collectors, first responders, and more – who are the foundation of society.
Our pets are getting more attention and love. We check in on family and friends a little more than when we were rushed for time. Generosity and community-mindedness is spiking. Pollution is down. We are leveraging technology to let us keep creating and connecting. We are learning new hobbies. And just perhaps for the first time, we are realizing the world can come together and share the same fight and concern. 
For New Jersey, we are reading and hearing about many selfless individuals and organizations within our communities that are dedicating their time and efforts to help others. "Knights in Shining Armor" throughout Monmouth, Ocean, Middlesex, Burlington, Bergen, Passaic and Hudson counties, including other jurisdictions, are doing what they can, big and small, to support others in this difficult time.
For example, the owners of Federico's Pizzeria in Belmar New Jersey have taken out a $50,000 line of credit to keep their employees on the payroll for the foreseeable future, leading to those in the community to donate to the pizzeria. Many of those who wanted to help out even paid for food to be sent to hospital staff, police, firefighters, and EMS squads. In Eatontown, first responders put on a small parade for a boy who, due to social distancing, couldn't celebrate his birthday the way most 5 year olds get to.
Bell Works is donating 500 meals per day to first responders in Holmdel. People and organizations throughout New Jersey have been coming together to support others in a number of ways since the start of the coronavirus outbreak. Seeing our communities support those within them has been a beautiful silver lining to this crisis.
Above all, this experience can remind us and teach our children a valuable life skill: resilience.
by Staff Blogger | February 18th, 2020
In late 1963, President Lyndon B. Johnson declared February as American Heart Month, making February 1964 the first nationally recognized American Heart Month in United States History. The declaration intended to raise awareness for cardiovascular disease, which remains the leading cause of death in the U.S.
Raising awareness increases public education of risk factors for cardiovascular disease as well as how best to combat and treat this disease. Advancements in medicine are improving prevention and treatment options.
The best chance of avoiding cardiovascular disease remains awareness and avoidance of risk factors, including but not limited to: obesity, physical inactivity, high blood pressure, cigarette smoking, high cholesterol, and diabetes.
It's important to be aware of which risk factors pertain to us. Millions of people have high blood pressure. If you have high blood pressure, be sure to see your doctor regularly and take whatever medication is prescribed to you in order to keep it under control. The majority of risk factors are fortunately things we can oftentimes make great strides towards dealing with on our own. With high cholesterol, diabetes, and obesity, we can make great improvements to our bodies through eating healthy and getting some physical activity in throughout the week. In addition to eating well and exercising, there are a few other important ways for us to prevent heart disease, such as managing any conditions like high blood pressure and cholesterol and avoiding smoking cigarettes. If you're already a smoker, try to scale it back, and eventually quit completely. 
If you're unsure if you're at risk of cardiovascular disease, then go see your doctor. Be aware of the risk factors your doctor believes pertain to you and take steps to minimize their impact on your body through healthy lifestyle habits. Try to maintain a consistent exercise plan and a healthy and well-balanced diet.
At Judd Shaw Injury Law, our team is dedicated to helping others. Our dedicated #WeHeart month seeks, in part, to keep the awareness alive and well so you can live well too!
by Staff Blogger | January 16th, 2020
In Monmouth, Ocean, and Middlesex County, flu season is running rampant. Emergency Rooms all over the state are flooding with sick adults and children alike, as the weather is cold and germs are spreading.
According to NJ.gov, about 8% of emergency room visits in New Jersey are for influenza-like illnesses. Because the Influenza Activity Level has been widespread and high throughout every region in New Jersey recently, it's more important than ever to be wary of getting sick.
Whether it is at school, work, or in your own home, people and places can get you sick and really put a damper on your winter. Here at Judd Shaw Injury Law, we believe health and safety are of the utmost importance, so that's why we're providing some tips on avoiding the flu in hopes that all can have a healthy and happy winter with their loved ones.
Wash Your Hands / Use Hand Sanitizer
One of the easiest but most looked over ways to keep germs away is washing your hands. You can do this at any time—not just following a bathroom break or a meal. Using hand sanitizer or washing your hands anytime you touch something that you think may not be clean or sanitary is a great way to limit the spread of germs to yourself and others.
Avoid Touching Your Eyes, Nose, and Mouth
No matter how often you wash your hands, it's impossible to completely separate yourself from the spreading of germs. That's why it's so important that we keep our hands away from our ears, nose, and mouth. It's hard to know when we touch something that could get us sick, and in most cases, we don't know until it's too late.
Disinfect Surfaces Regularly
When using objects or working on surfaces, it's always smart to take a minute or two to disinfect them before and after using them. It's good to disinfect anything you come in contact with, especially objects you are touching and working with regularly. Not only will this keep a clean environment around you, protecting you from illness, but you very well might be helping someone else stay healthy who might not have thought to disinfect the objects they come in contact with every day.
Cover Your Mouth and Nose
Coughing and sneezing go hand in hand with winter. When coughing and sneezing, it's important to cover up your mouth and nose so you don't spread around any germs. Be sure to sanitize and wash your hands afterward so the germs don't spread onto whatever you touch.
Stay Home
Unfortunately, no matter how careful we are, sometimes our daily lives inevitably lead to us getting sick. If you do get sick, do yourself and those around you a favor and stay home. You might think you need to go to work, but you're much better off taking the time you need to get healthy so that you can perform to the best of your ability when you return and so you don't get any of your coworkers sick.
Winter is a tough time for everyone. Every year it seems like everyone is getting sick or you're the one getting sick. The flu is a very tough illness to deal with, making it all the more important to do what needs to be done to avoid it. We wish you all a safe, healthy, and happy winter!
by Staff Blogger | December 27th, 2019
The Holiday Season can be a busy and stressful time, which can lead to unhealthy and damaging habits. Here at Judd Shaw Injury Law, we want everyone to be safe and healthy with friends and family. So, we thought we could outline some health tips for the holiday season to keep you having fun and enjoying time with your loved ones.
Try to Avoid Overindulging
Great food and drinks are a part of the holiday season for many, but try to enjoy them in moderation. Some people overeat and drink due to stress, and that is not healthy for you. Just remember, pace yourself, but also enjoy yourself.
Get Plenty of Rest
The key to keeping stress down is making sure you get your rest. If you allow yourself to get run down, it can really affect your holiday and become a problem. Make sure to get your eight hours of sleep and stay rested to maximize fun!
Stay Active
Make sure to get up and do things around the holidays. It is very easy to find yourself sitting and talking with people all day, but make sure to go on walks or find something active to do to keep you going.
Travel Safely
This is the busiest time of the year for travel. Make sure you have well outlined plans for traveling, and allow yourself enough time to get to where you are going. It will relieve stress if you are able to calmly and safely get to your loved ones.
From all of us here at Judd Shaw Injury Law, we wish you all a safe and happy holiday season. We work hard all year so we can enjoy time with our family and friends this time of year.
The holiday season is a very happy time for many, and we hope that you are able to find that happiness as well. 2020 is a new year, and here at Judd Shaw Injury Law, we plan on it being our best year yet. We look forward to the New Year and all the great surprises that it can bring!
Happy Holidays!
by Staff Blogger | December 17th, 2019
As the holiday season approaches, people scramble for last-minute gifts that they may have missed or because they were unsure of what to get for that special someone. Many people from Monmouth, Ocean, and Middlesex County take great pride in where they are from. So, what better gift to give them than something that reminds them of home. Time is getting short, but if you act now, you can still grab a few of these great gift ideas!
New Jersey Wine Cork Map
If you know a wine lover, this could be a great decorative gift that gets some good use. As they say, every cork tells a story!
NJ Custom License Plate T-Shirt
What better way to get a personal New Jersey gift than to customize a T-Shirt in the License Plate of their favorite state. With up to 15 characters to use, most names will fit and will be sure to please the person who gets it.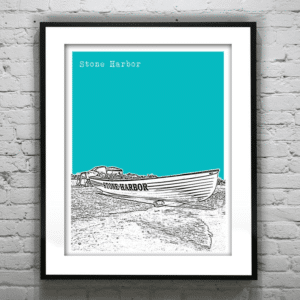 New Jersey Points of Interest Posters
The posters cover many different areas of the Jersey Shore and allow you to pick more colors and designs. These can make a great gift if you get one personalized to their favorite Middlesex County town or Monmouth or Ocean County beach.
Whatever you decide on, gifts that have meaning associated with them are always a plus. Especially if they are tied to home, whether it is Monmouth County, Ocean County, or anywhere in New Jersey. Here at Judd Shaw Injury Law, we wish you Happy Holidays and a safe and happy New Year!